Payet's WA Title Hat Trick
Perth's Tom Payet managed to do exactly what he set out to do when he took to the Perth Motorplex track last Friday and Saturday night, and that was to successfully defend his Western Australian Wingless Sprint Title and score a hat trick of wins in the Des Nash honoured event in the process.
After starting the 25-lap WA Title-deciding feature race from position two, Payet slipped back to third in the early stages, as Matty Fellowes charged to second place, following the premature retirements of third and fourth-place starters Matt Iwanow and Sam Borlini. Quickly recovering, Payet regained the runner-up spot, going on to steal the lead from current Australian Champion and pole-sitter Daniel Hartigan with 15 laps to go, which was a position he retained for the remainder of the race.
Unable to regain the lead from his best mate Payet, Hartigan had to settle for second, with Fellowes rapt to take out the final podium place in third.
Ashley Pittard gave an impressive performance to finish just off the podium in fourth, after starting the feature race from outside the top 10, while Bradley Fitzgerald rounded out the top five. Mitchell Harris, Kyle Beard, Brendon Wedge, Brad Taylor, Justin Wragg and Dylan O'Connor completed the finishers.
Former WA Champion Dean Gittos, Iwanow, Daran Humfrey and Borlini were the hard-luck stories of the night and failed to finish.
Photo: Peter Roebuck
The opening night of competition saw heat-race wins go to Iwanow, Fellowes, Borlini and Payet. Later in the night, Payet went on to win the 15-lap preliminary feature race in what was an exciting finish which saw Payet, Iwanow, Borlini and Fellowes cross the line four wide at the fall of the chequered flag. Ultimately, it was Payet who was announced as the winner, with Iwanow and Borlini finishing back in second and third, ahead of Fellowes, Hartigan, Gittos, Wedge, Fitzgerald, Humfrey, Harris, Pittard, Taylor, Beard and O'Connor. Justin Wragg was the only non-finisher.
On Saturday night, the remaining heat-race wins went the way of Payet and Iwanow, with Hartigan proving the best in the top-eight knockouts. While Fitzgerald won the first knockout round over Wedge, it was Hartigan who dominated, defeating Fitzgerald, Gittos, Fellowes, Borlini, Iwanow and Payet to secure pole position for the feature race.
Undeterred, Payet focused his mind on the task at hand, going on to achieve a sensational feat, adding his third WA Title to his resume.
For their next appearance, the WA Wingless Sprints will head to Bunbury Speedway this Saturday night.
To find out more about the WA Wingless Sprints, visit their website at www.awsr.com.au/wa or LIKE them on Facebook by searching Wingless Sprints W.A.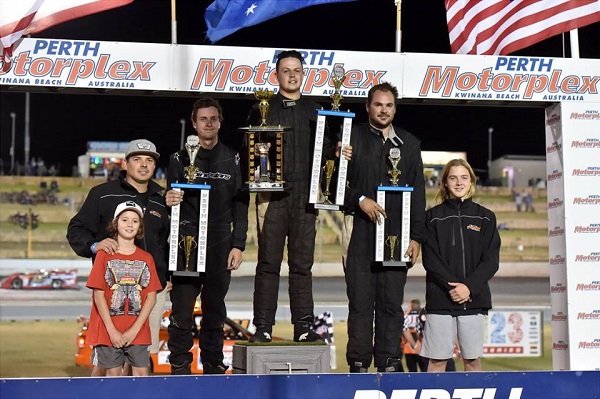 Photo: Peter Roebuck